Hey everyone. Sorry about not posting yesterday. With moving into our new place and adopting our precious little Tula, it's been crazy hectic. All focus right now is on helping Tula adjust to her new home and her new mommy and daddy. We managed to do quite a bit of unpacking on Saturday, but since I picked up Tula on Monday, it's been all about her. Packing, furnishing, and decorating our new home will just have to wait a little. But, it's totally fine because there will be plenty of time for that.
We are absolutely head over heels for Tula and she is quite the little snuggle-bug. She would literally snuggle all day in my arms or in my lap if I'd let her. And, since I'm a bit of a snuggler myself, it's that much harder to set some boundaries and get anything done.
Yesterday I took Tula to the vet and, for the most part, it was good news. There are a couple of things we need to address and monitor but nothing too major, thank goodness. I am planning on slowly weaning her off of her current kibble onto a more nutritious one so that she can be an even healthier and stronger little doggie. If anyone has any recommendations for a good-quality dry dog food for small breeds like Tula, please let me know. I'd really appreciate it!
Okay, enough about Tula (though it's hard to get off the subject) and on to some WIAW eats – Super Bowl style.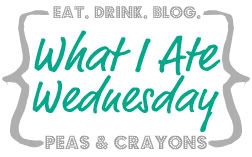 My husband and I went up to San Francisco to cheer on the 49ers with our friends. There were snacks and drinks galore, many of which were red and gold themed, naturally. Unfortunately, I don't have the best pics because I took all of these on my husband's iphone. But, to quote
The Beatles
, what I've got I'll give to you.
First up, we've got the obligatory veggie platter. Every Super Bowl party's got to have one.
Another Super Bowl party must – buffalo chicken wings. These are actually Buffalo Chicken Breast Bites, but it's the same concept.
Then, of course, there's the salsa, guacamole, and tortilla chips. But, these aren't just any tortilla chips, these are sweet potato tortilla chips. Nom. Nom.
Um, you're probably noticing by now that I didn't remember to take pics of anything until it was practically devoured. (Whoopsie!) Unfortunately, when good food is in front of me, that's kind of my MO. Somehow, all I want to do is dig in and taking pics doesn't even occur to me until it's too late.
Apparently, this happens to me with drinks too…
That is my Bloody Mary loaded with goodies (well, what's left of it at least). I've mentioned before about my love affair with Bloody Mary's, especially all of the goodies that accompany the drink. Well, my awesome and thoughtful friends got the stuff (including all the fixings) for me to have some Bloody Mary's (red for the 49ers) on Sunday. I loved every sip of it.
Here's the one pic to redeem myself. Hooray! I actually got a shot of these cute little homemade pizza muffin bites with fresh pizza dipping sauce before we munched them all up. (That was truly a major accomplishment.)
And, this was the Super Bowl snack that completely stole the show.
Our friends made these red and gold cupcakes. As if that wasn't awesome enough, they topped it with this creamy chocolatey and coconutty frosting. I could have just ate that frosting straight it was so good, and I'm not typically a frosting kind of gal. I usually scrape off the frosting or eat around it. It's more like an unwanted barrier between me and a delicious piece of cake. But, not this stuff. Quite the contrary.
I was excited to find out that the recipe was super simple and actually from one of my favorite blogs – Chocolate Covered Katie. It's no wonder Katie calls it Chocolate Mousse Frosting Shots. I'll take a shot (or two or three) of this frosting over any alcoholic beverage any day. You've seriously GOT to try this stuff.
Alright, that wraps up this WIAW. I apologize in advance if my posts are a little irregular for a while during this time of transition. I'll do my best to post as much as I can.
Thanks to the lovely Jenn over at Peas & Crayons for hosting this WIAW!